HARMONIOUS DELICACIES AT Hotel Zauchensee Zentral
Hotel with half-board in Altenmarkt-Zauchensee
It is, indeed, something wonderful, when you can spend the entire day looking forward to a delectable evening at the hotel. The fresh, seasonal creations of our kitchen team led by Chef Edi Cenc give your palate a true treat. Allow the 4-course dinner menu at 4-star Hotel Zauchensee Zentral to melt on your tongue – each course captivates anew. The freshness and diversity of products that come primarily from Salzburger Land and, in some cases, from our own farm, can be clearly tasted. Highly recommended as a dinner companion is the "Cuvée Downhill" from vintner Gerhard Pimpel in Göttlesbrunn, a red-wine cuvée inspired by Michael Walchhofer. The perfect completion to a day of sports spent inside the Altenmarkt-Zauchensee ski area.
Breakfast buffet & 4-course dinner selection
Salzburg breakfast buffet from 7:30 - 10 AM with fresh food products from the region, breads and breakfast rolls, cake, croissants, savory spreads, jams, honey, Nutella, ham, sausage, cheeses, ham & eggs, natural yoghurt, fruit yoghurt, wholegrain cereal, cornflakes, fresh fruit and vegetables, fruit salad, dried fruits, teas, coffees, hot chocolate, fresh-pressed juices
Selection of set 4-course dinners from 6:30 – 8 PM with salad buffet and a board of full-flavored cheeses
Select products from the farm
Vegetarian dishes
For children: 3-course meal or choice from the grown-up menu
Vegan dishes and special meals for allergy-sufferers upon request

Warmth, openness and an Alpine ambience await you in the two areas of our inviting restaurant at 4-star Hotel Zauchensee Zentral in Altenmarkt-Zauchensee. The spacious restaurant with its natural, appealing atmosphere is a wonderful setting that sets diners at perfect ease. The warm colors of the materials meld with the rustic grain of the native woods. Allow yourself to be pampered in our restaurant courtesy of the sincere and genuine service of our employees.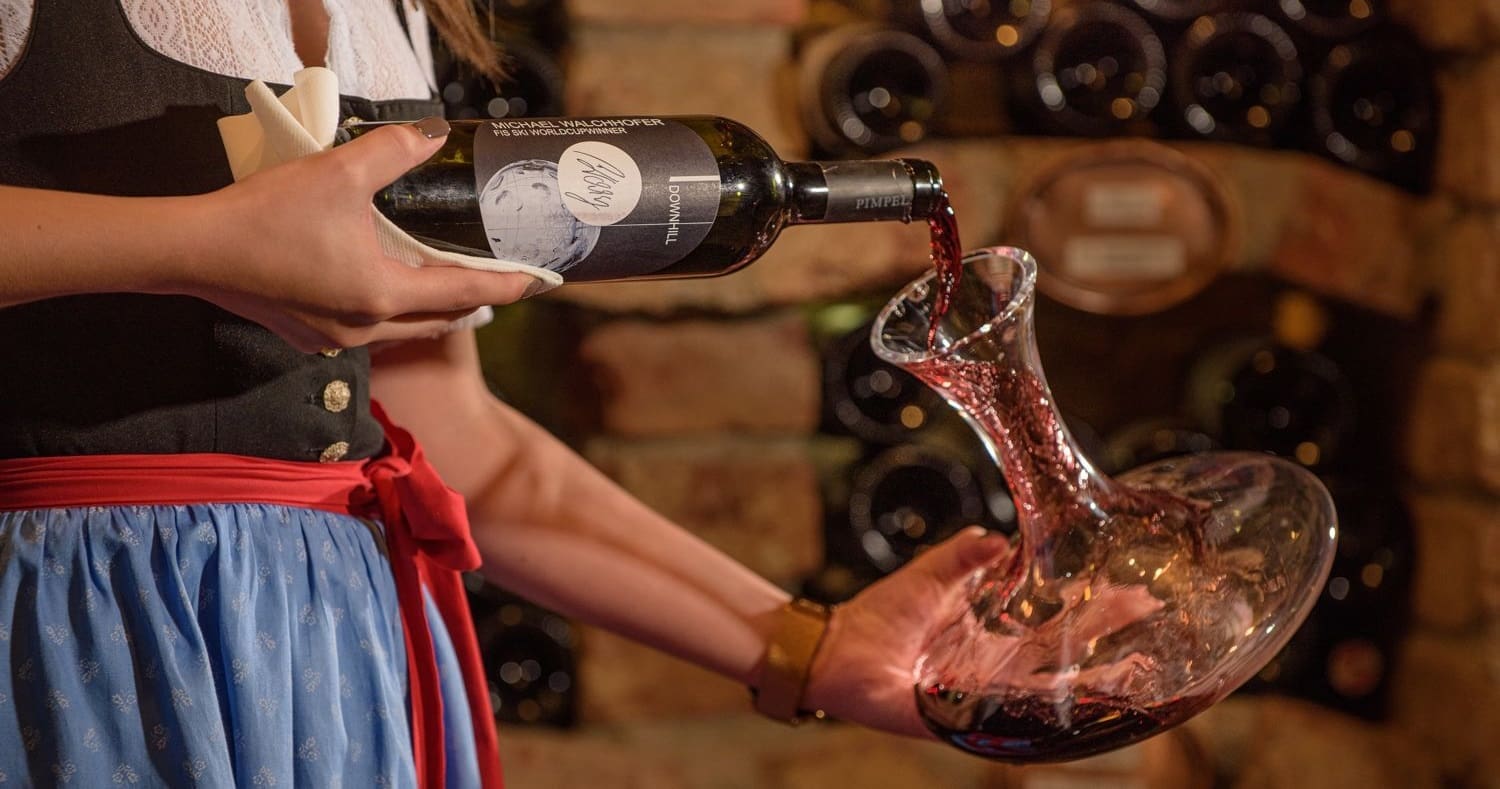 Select fine wines from Austria and elite international wine-growing regions are presented against the original backdrop of 4-star Hotel Zauchensee Zentral in Altenmarkt-Zauchensee. In the open entrance area of the restaurant, you will find a refined collection of white and red wines in the brick niches, wines that provide a wonderful accompaniment to your dinner menu. Also awaiting you is the award-winning "Cuvée Downhill" red wine, produced at Weingut Gerhard Pimpel in Göttlesbrunn. The idea of creating this special wine with Michael Walchhofer was rooted in the sporting successes of this skiing ace in the World Cup as well as in the hotel business.

A friendly "Grüss Gott!" and a firm handshake at the reception welcome you to our 4-star Hotel Zauchensee Zentral. A popular meeting place for our satisfied guests is the lobby with lounge character and the hotel bar with refreshing bar drinks. Here, people also gather to read, chat or simply mull over a beautiful vacation day spent in the Altenmarkt-Zauchensee ski area. Over a glass of wine, a freshly tapped beer or a quick espresso, enjoy carefree moments or an extended timeout.
AneCDOTE-COOKBOOK & Cuvée WINE OF HOTEL HOST & SKI WORLD CHAMPION
Cuisine with Michael Walchhofer
World-class-caliber cooking – competitive skiing and fine cuisine have more in common than you might think. At first glance, two disciplines that couldn't be more different. But if you look a little closer, you do see numerous parallels. Every movement, every element of what you do has to be synchronized to perfection, be that the ingredients in the kitchen or your equipment on the piste. If you make it successfully across the "finish line", you can enjoy the sweet taste of success and the amazing flavors of your dish. It goes without saying that Michael Walchhofer is not only an outstanding skier, but also a veritable World Champion of fine flavors.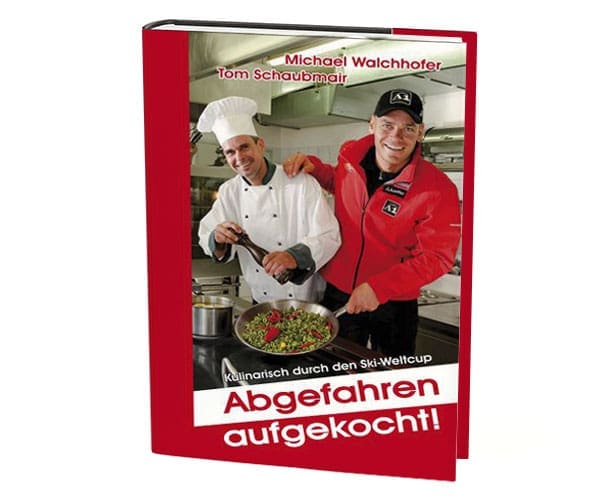 Together with our ski world champion Michael Walchhofer, embark on a culinary journey into the fascinating world of the Ski World Cup. These refined, original compositions are easy to prepare and whet your appetite to make them right there in your own kitchen. A mixture of cooking ideas and anecdotes, "Abgefahren aufgekocht" is available at the reception or simply order by email.
An outstanding wine turns a dish into something truly special. Finely tuned to one another, the joyful interplay of aromas conjures up memorable flavor experiences. Inspired by the numerous sporting successes of Michael Walchhofer, vintner Gerhard Pimpel from Göttlesbrunn, in close cooperation with the ski star, created a red-wine cuvée with the resonant name "Cuvée Downhill 04". The combination of Merlot and Blauer Zweigelt originates in the Carnuntum wine-growing region of Lower Austria. This successful collaboration has spanned years. The cuvées "Downhill 09" and "Downhill 11" were each awarded 93 Falstaff points, putting them amongst the very best red wines in Austria. Convince yourself of the high quality of these wines as you enjoy a glass at our 4-star Hotel Zauchensee Zentral in Salzburger Land.